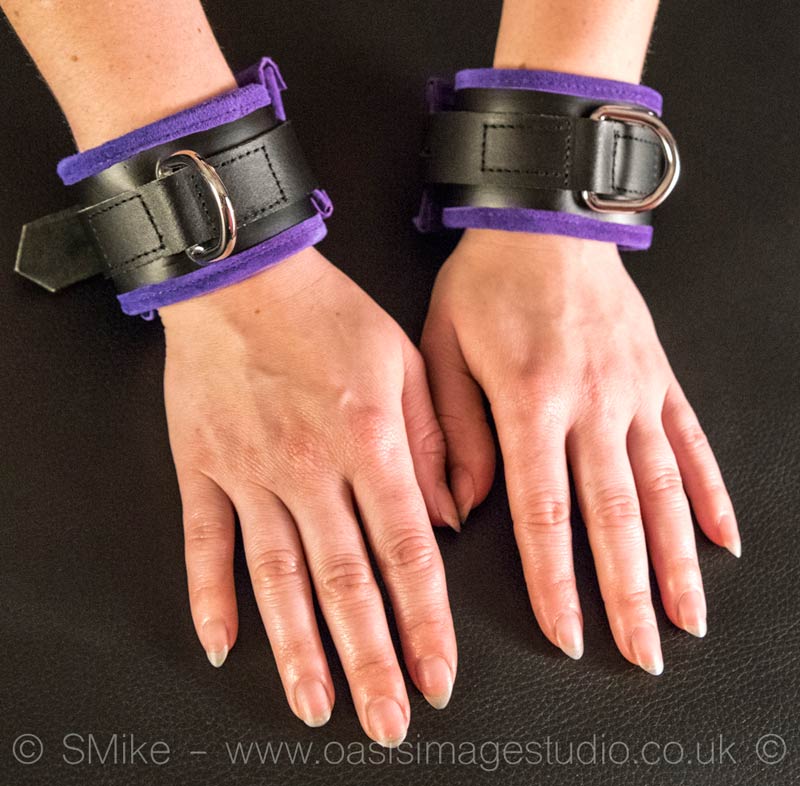 How to choose bondage gear.
Leather cuffs, metal handcuffs or rope?
All these are quite different, with benefits and disadvantages to each. Here are the main ones:
Leather cuffs – Easy to put on and take off. Easy to get a good fit and secure for bondage. Easy to attach to bondage furniture/each other/hog ties/underbed straps etc. Unlikely to rub or leave marks. Comfortable for long periods. Require sub's co-operation to put them on.
Handcuffs – Easy and quick to put on. Very difficult to get out of without the key. Will rub and leave marks if sub struggles.
Rope– Will fit any size. Can be used on wrists/body etc, not just one place. Can do all sorts of bondage with one piece of rope. Easy to attach to furniture etc. Takes time to put on and requires sub's co-operation. Takes time to learn how to use properly. Can leave marks if tight or worn for long.
How to choose handcuffs.
Look for handcuffs with no sharp or rough edges. Handcuffs with a double lock mechanism enable you to stop them over-tightening during use. Think about how much movement you want the wearer to have – hinged handcuffs will give less room to move than chain link handcuffs. If you want to really restrict them thumbcuffs are an interesting option – we especially enjoy putting slaves in a pair of thumbcuffs then making them hoover. They have to think hard to figure out how to do the task and the thumbcuffs will also add an element of physical discomfort.
How to choose rope.
With rope the three main things to consider is how well it holds the knots, how it will feel against the skin, and how thick it is.
1) You want a rope that will hold the knots well so they will not slip and move easily but that will not hold them so well that you cannot undo the knots. If you are shopping for rope in person try tying a knot in it then undo it to test this factor.
2) A rope that is rough will feel interesting across the skin, but will not be very comfortable for the wearer. When starting out a softer rope can be good as it will feel more sensual.
3) Look for a rope around a thickness of 8mm when starting out as it will be thick enough to not bite into the skin excessively and be easier to untie, yet be thin enough that it will easy to use.
4) Do not fall into the trap of buying a 1 metre length because it looks long! Most rope ties require you to double the rope over and wrap it around several times, so you will need several metres just to do a basic tie. 8-10 metres is a good length to start with.
Always have a pair of safety shears to hand when using rope, so you can cut through the rope to release the wearer quickly if required.
How to choose leather cuffs.
1) Firstly check they are real leather and not synthetic leather (as synthetic leather is not as strong and less likely to withstand much heavy bondage play).
2) Check how the D-rings are fastened – they should be securely stitched or riveted. If you are shopping in person give them a decent few tugs – if the shop will not let you do this ask yourself why? The D-rings should also be welded rather than open, otherwise over time they may pull off.
3) The edges of the cuffs should be smooth and comfortable to prevent rubbing against the skin, otherwise you are likely to be left with red marks around your wrists after play.
4) There should be no metal rivet backs/buckles etc against the skin, as some people react to non-precious metals and there is a higher risk of rubbing.
5) Padded and lined restraints are going to be more comfortable than unlined ones, particularly if you like to struggle or will be wearing the cuffs for a long time. The padding puts less pressure on the wrists and veins, so you are less likely to injure yourself if you struggle.
6) Check the cuffs are the correct size and fit securely – sometimes slim women can slip out of men's cuffs, which defeats the object of bondage!
7) Consider what lock type you want. Regular buckles are great when starting out but if you want to feel really securely restrained lockable buckles can add that extra element of bondage – as you can't undo the cuffs yourself even if you manage to get your fingers round to the buckle. (Always keep the keys handy though and a pair of sharp scissors incase you needed to cut the cuffs off in an emergency.) Our bondage cuffs have the option of adding lockable buckles, feature soft suede edging, are lined and padded and will be made to measure for a perfect fit.
Adding a blindfold?
Taking away sight as well as movement places the submissive in a position of extreme vulnerability. Blindfolds can be lots of fun when combined with bondage to take the scene deeper. They can enhance sensation and greatly increase the submissive's dependence on the Dominant. This requires a lot of trust, and can take a submissive deep into role, but can also cause fear. This is easier to play with if you know the submissive quite well, can read their body language and you have built up trust between you.
How to choose a blindfold.
The main considerations with a blindfold are that it should block out sight and be comfortable for the wearer – with little pressure on the eyes or back of the neck. Padding will help block sight but should also be soft to reduce pressure on the eyes. The strap to attach the blindfold should be secure and adjustable so you can get a good fit, otherwise the blindfold will come off too easily. The strap should not leave any metal (buckles etc) against the skin as this can be uncomfortable and in some cases cause an allergic reaction. If there is a buckle this should not fasten at the back of the head/neck if you plan to use the blindfold on someone laying down, as this will put pressure on the spine and back of the neck (apart from being uncomfortable this can be dangerous). If the wearer enjoys struggling and wriggling a blindfold with a head strap may stay on better than a regular blindfold.
What can I tie someone to if I have no fetish furniture?
Themselves! Using trigger clips or rope. There are lots of ties you can do, either quickly using leather restraints and trigger clips, or intricate ones using rope.
Hog Tie. This is a continuation from tying a sub to themselves. It is a four-way set of clips that allows a variety of ways to quickly and easily tie someone wearing leather restraints to themselves. A traditional hog tie position is to have the sub face down on the floor or bed, with their wrists and ankles tied up behind them – which is why a hog tie has four clips. This position does require some flexibility on the part of the sub and can be difficult to maintain for a long time. However it is very restricting and effective for bondage and feeling at the Dominant's mercy!
Overdoor Ties. These slip over the top of a door and provide a sturdy anchor point from any door frame. They are a small item which require no fixings, making them easy to take on holiday and fit over hotel doors. They are also ideal for rented accommodation or where having anchor points in your own home would be awkward (children, relatives etc). You can either use a pair to keep the wrists apart or use two pairs to form a St Andrew's Cross position against your door. You can use the overdoor hooks to clip onto leather bondage cuffs or rope. This gives a great bondage position for SM play with floggers, crops, canes etc.
Underbed Strap. This is a great item for tying your partner to the bed for sexy bondage, or for keeping them still for a prolonged SM scene. The weight of the sub on the bed holds the strap in place and the four anchor points enable you to tie your partner quickly, easily and securely to the bed. The adjustability in the straps enables you to choose between them having some movement, or none at all. It packs into a small bag, ideal for taking on holiday. At home you can simply tuck the clips under the mattress when not in use to keep it out of sight or remove it in a matter of minutes ans store it in a drawer.
What other bondage equipment options are there?
Gags If you'd like to take bondage further gags are a very popular way of emphasising control and bondage. They reduce the ability to speak and communicate, which is a powerful aspect to lose and can be a quick trigger of submission for some. Choose a gag that will be comfortable to wear, will not rub against the edges of the mouth and that will still allow you to breathe. Ring gags are popular as you can alter the size of the ring to suit your mouth, or for training purposes and there is no choking risk.
Hoods There are a huge variety of hoods and due to the full head enclosure they feel very different to simply wearing a blindfold or gag. Many submissives find them a large trigger to feeling submissive, and many like the anonimity they provide, especially at fetish events. Think about the material used – leather is traditional and looks and smells great, but can get very hot in summer or a hot club. Our PVC lycra hood is cooler to wear and an unusual experience as it allows limited visibility and is reasonably easy to breathe through. Hoods come with a variety of blindfolds and gags, sometimes removable. Hoods are great for sensory deprivation scenes as they will stay on better than a blindfold, even if the submissive is struggling and it blocks out some hearing (even more if you put in ear plugs first).
Suspension This is a risky form of bondage, as it is the most likely to cause serious injury if done incorrectly or with inadequate equipment. It is a unique feeling though and something many people find fascinating to try. If you would like to try suspension research it first, and consider going to a fetish event with a workshop or contacting a suspension specialist for lessons first. When you are confident ensure you use equipment specifically designed for suspension – ordinary bondage cuffs are not weight tested to take full body weight.
Furniture There are many elaborate items of bondage furniture. Most are large and expensive, making them unsuitable for the home unless you have the luxury of a dedicated 'play room'. Most fetish clubs and events will have a wide range of dungeon furniture, which is one of the many benefits of going to a fetish club. If you are considering buying furniture think about the best item for your space and try various pieces out at clubs first to find out which item(s) you particularly enjoy using.
Bondage safety tips for Dominants
– When you put someone in bondage you are putting them in a position of vulnerability. Do not undertake this unless you are prepared to accept full responsibility for them and give them your full attention.
– Do not undertake bondage under the influence of alcohol or drugs. Bondage requires responsibility, quick responses and a watchful eye.
– Never leave someone unattended whilst in bondage.
– Only collars should be used around the neck for bondage. You should always be able to fit a finger between the collar and the neck to ensure it is not too tight. Do not pull more than a gentle tug on the neck at any time – it is an easy area to damage.
– Ensure the submissive can breathe easily at all times and in all positions.
– If the submissive is physically restrained check their hands and feet at least every 10 minutes. If they feel excessively cold or are turning a different colour take the submissive out of the bondage immediately, even if they ask to remain in it.
– Check in with your submissive periodically to check they feel fine and are not exceptionally uncomfortable.
– Do not overtighten any type of bondage over nerves – research the basics of where these are before beginning.
– If you wish to play with intense bondage, e.g. suspension, prolonged restraint, mummification, etc research thoroughly first.
Bondage safety tips for submissives
– You must mention before a scene if you have any limitations, e.g. back problems that prevent you being put in certain positions.
– It is your responsibility to mention to the Dominant if you feel dizzy, faint or unwell in any way during any scene, and especially whilst in bondage.
– It is your responsibility to mention to the Dominant if an area of your body (most commonly hands) feel unusually cold or numb. If necessary safeword to do so as even the strictest Dominant will not want to cause nerve damage from you not informing them – the traffic light system is a popular safeword as it allows the submissive to use "amber" for something lke this to bring thier Dominants attention to something without stopping the scene altogether.
– If a Dominant uses a tie that is uncomfortably tight, politely mention this to the Dominant. They can then choose to alter it, or keep you in it for a short time, depending on their scene.
– Do not enter into a bondage scene under the influence of alcohol or drugs. Bondage is a scene where you need to be aware of how your body is feeling to ensure you can accurately inform the Dominant of discomfort or breathing issues.